153. A DICK CHENEY DOOMER FIGHTS BACK!
My
suggestion
about people sleeping at the office to cut down on commuting provoked a
vigorous response
from ashurbanipal, one of the Dick Cheney doomers over at peakoil.com. This confused individual is in favor of returning to the land and tilling the soil, but opposed to any lifestyle changes which might conserve gasoline. Conservation is insanity. Every lame argument in the book must be invoked against it:
Lately, I've been hearing a lot from the optimist camp that conservation, if done correctly, will be enough to save us from the deleterious effects of Peak Oil. To someone who is new to the subject, or who has not paused to examine the situation, this may seem reasonable. Optimists point to how much driving Americans do compared to Europeans, for instance. It is argued that if Europe can do without all the driving, so can America. I read a recent argument that, if necessary, people could start living where they work during the week. They could prop a cot right up next to their desk and sleep there, rather than driving to and from work. Aside from the spectre of indentured servitude this raises, there are other fundamental reasons to object to it, consequences be damned.
Telecommuting would probably be a better approach for people with a desk job. That way they can shower at home, and the boss can foist off all his overhead onto the workers.
The first thing that comes to mind is that offices everywhere will have to build showers and provide lockers, or deal with a bunch of really stinky (and eventually ill) workers. Most offices I've worked in use all their available space and sit on a slab foundation that isn't plumbed for a full bathroom. Some buildings can be modified, and a few already have executive showers. But most buildings will require a relatively significant investment of cash, and risk significant damage to the foundation, to install showers.
Yes, showers have now become like nuclear plants. Complex, billion dollar facilities which we have no hope of scaling up in time. LOL
Here's another cool idea from Japan. Comfy flop-house sleeping compartments with shower facilities: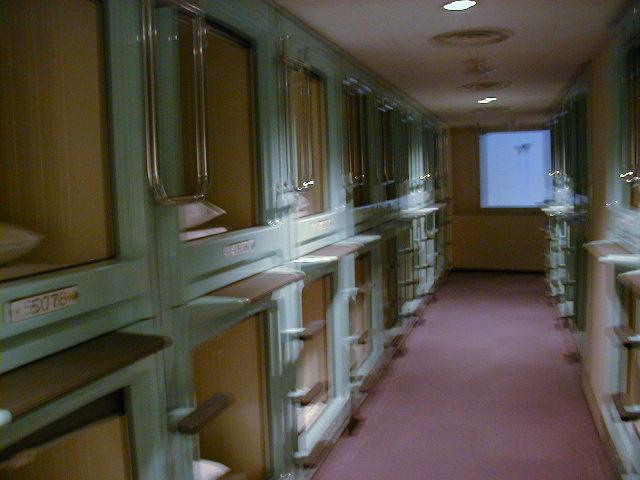 The Capsule Hotel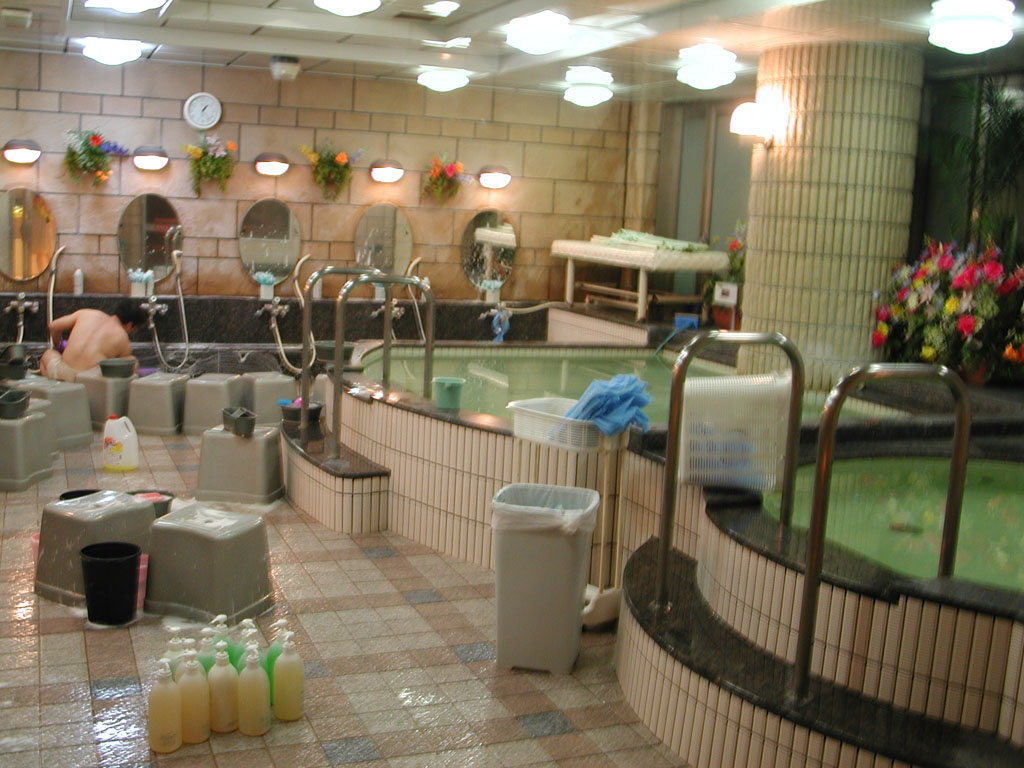 Awesome bathing facilities at the capsule hotel
The next thing that comes to mind is how someone locked into sleeping at their office during the week will take care of their children? Someone will obviously have to be hired to do so, and to take the children to school. If the purpose of living at the office to begin with is because gas has become so expensive that there is no alternative, then when one realizes that the cost of day care is already very high, it's easy to question this solution. Nor could we go back to a family living on a single income. Mortgages and groceries are already too high, and the requisite capital isn't present in order to increase wages significantly. The only solution I see is that children would have to start sleeping at state-subsidized schools. Boarding schools have provided a model for this, but they have also always been quite expensive, and the money to operate them on a broad basis has to come from somewhere. At the end of the day, people need a certain minimum allotment of resources in order to live.
This is another namby-pamby objection which can be solved in any number of ways.
1) Mom sleeps at work half the time, and Dad sleeps at work half the time.
2) One of them telecommutes.
3) A single parent can telecommute.
4) A single parent can take the bus.
5) A single parent can buy a scooter.
6) A single parent can ride a bicycle.
7) A single parent can move closer to work.
8) A single parent can move in with family.
9) A single parent can try harder to make the marriage work.
9) Children can walk to school and work off some of that fat.
10) Children can live with family.
11) Older children can learn to cook and clean for themselves while Mom is gone.
Here's where I sense the optimist will want to say "But hey! We've saved a lot of money on gas by living at the office! We can afford to do this now." And this is the crux of the conservation issue. For a while, we will have saved money, and for a while, we might be able to afford this solution. But eventually, this will no longer be possible. Prices will continue to tighten, and conservation will have to proceed apace. No matter what we do, we will eventually get to a point where conservation means not eating, not having shelter or clothing, etc.
This is incorrect. Conservation will continue until we are relying only on alternative energy sources which are stable or growing, i.e. LNG, coal, ethanol, solar, wind, geothermal, hydroelectric, and nuclear. That's a big fat cushion to fall on. The point ashurbanipal is missing is this: Once you're not using gasoline anymore, you're done conserving. I know this is possible because I don't use any gasoline at all, and I live a comfortable first world lifestyle.
The philosopher in me senses a far deeper issue at work here. Something about the labels "Optimist" and "Doomer" seems fundamentally wrong to me, or at least that's my intuition. What's bugging me is why it would be considered "optimistic" to look forward to a future where people sleep at their place of business while their children are miles away sleeping where they go to school? I don't know about anyone else, but if it suddenly became law or custom that people had to sleep where they work a certain number of days, my boss would demand people work from 6 AM to 9 PM, and use the increased productivity to fire a bunch of people. In his mind, it would be only fair since he is now providing housing. Is the doomer scenario of powerdown and living close to the land actually worse than this somehow? We'll return to this question in a moment.

[...]

Optimists seem to be motivated to argue that we will find a way to continue our current system more or less indefinitely. One founding principle of all optimistic arguments is that we must conserve resources to the end that we can transition our system of virtual land to the support of some other source of energy. As I hinted earlier, we're at the point now (or we soon will be) where conservation means a series of deeper and deeper disconnects. Disconnection from our families and children, from any kind of hobby, from our own humanity.
Resisting conservation has now became a matter of preserving our very humanity. Cue the tragic violin music.
Sleeping at the office was actually suggested by an optimist on JD's weblog. What should seem obvious from this long post is that the apparent underlying motivation of this suggestion is to maintain a failing system as long as possible. Should we seek to do so? Should we seek to stay alive at any cost?
Maybe you're right, ashurbanipal. If the price of fuel gets too high, it's probably better not to conserve and improvise. The best approach is probably to stay at home and die, with your children, your hobby, and your humanity.
-- by JD