129. WHERE'S THE RELOCALIZATION?
One of the rarely examined postulates of the peak oil catechism is that increasing oil prices will cause the economy to relocalize. Expensive crude will pull the rug out from under globalization, and everything will have to be made closer to home because fuel costs will make it too expensive to ship goods long distance. This myth was conclusively refuted in
#55
, but some of my readers are too stupid or obstinate to understand that reasoning, so allow me to take a different tack.
Crude oil prices hit a low of $10 in 1998, and increased 7 times (600%) to a high of $70 in August of 2005 (click on images to enlarge):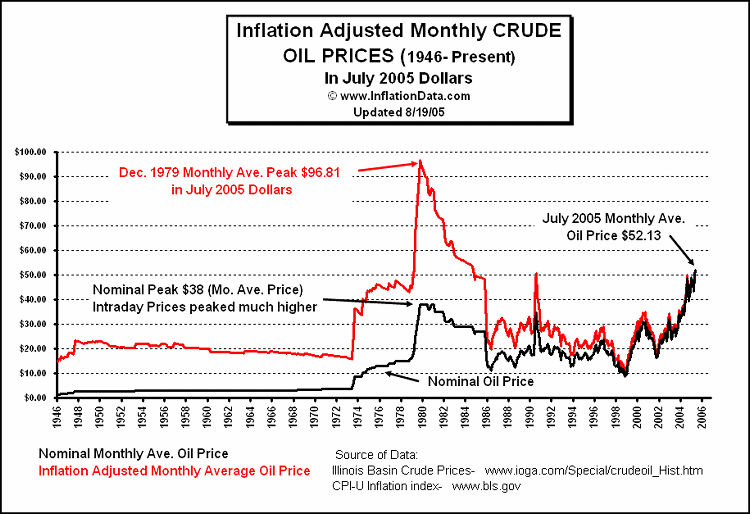 Source
Meanwhile, imports from China ballooned from US$ 5 billion to 20 billion:
Source
And Walmart kept right on growing, as usual:
Source
The latest stats on Walmart:
Revenue: $300 billion
Quarterly revenue growth (yoy): 10.20%
Source
So where's the relocalization? Oil prices shoot up by 600% and there isn't a shred of evidence of any relocalization whatsoever.
Indeed, the latest news from the auto industry is the impending bankruptcy of Delphi, and the need to move auto parts manufacturing offshore due to high U.S. labor costs:
"I think under any circumstances, Delphi will have to downsize its domestic operations and probably increase its offshore operations," he said.
[...]
"You have to go where the costs are lowest, and at the moment the costs are lowest in India and China," Munson said.Source
The sad reality is that relocalization is a fantasy. High oil prices have no effect whatsoever on trade volumes, just as the calculation in #55 shows. Anybody who thinks otherwise needs to produce even a single real-world case where a product has been relocalized due to high fuel costs.